Midwest Select Contracting
We are a qualified, experienced and certified firm.
We stand ready to help you meet your equity, diversity, and inclusion project goals. We hold business designations from the following certifying agencies.
Disadvantaged Business Enterprise (DBE) – Minnesota Department of Transportation (MnDOT), North Dakota Department of Transportation (NDOT), Maryland Department of Transportation (MDOT), Michigan Department of Transportation (MDOT)
Minority Owned, Woman Owned, Small Business Enterprise (M/W/SBE) – Central CERT Service-Disabled Veteran Owned Small Business (SDVOSB)- Certified Veteran Enterprise
CLEAN. SAFE. LIVABLE
Midwest Select Contracting LLC (MSC) delivers innovative, comprehensive environmental consulting and construction solutions in support of federal, state and county agencies
Midwest Select Contracting LLC, (MSC) performs Environmental Consulting, Construction Management and Construction Inspection Services and Materials Testing & Sampling throughout the Midwest and beyond. MSC has a diverse portfolio of construction projects, serving as Owner Representative, Construction Managers, Inspectors and Environmental consultants. We provide targeted solutions to complex problems that present challenges to our clients.
Since our inception in 2013, the company has worked on high-profile and historic construction projects, as responsible inspectors, construction overseers and system stewards creating sustainable and resilient infrastructures. Clients use our experience and expertise in the construction industry to conduct environmental due diligence on proposed and active construction projects as well as manage and oversee workflow.
With team synergy, we provide solutions and data analytics to help our clients understand environmental impacts, mitigate risks, identify trends and insights as well as any perceived unique project challenges to proposed and active environmental and construction projects. As environmental consultants and construction managers, we deliver clients key project information needed to support and formulate their optimal business decisions. Our multi-service offerings allow us to provide comprehensive solutions to commercial, residential, and government sectors to assist in meeting their objectives to achieve equitable social, environmental and economic outcomes on construction projects.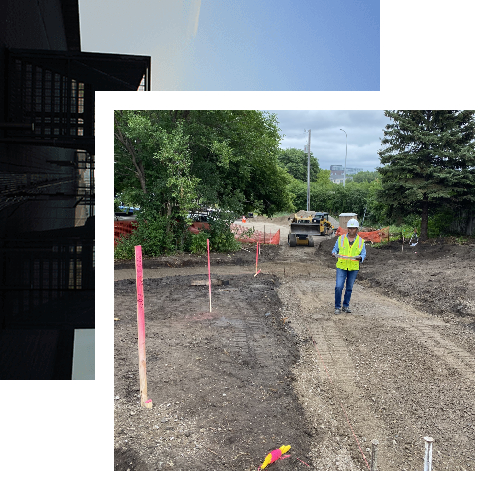 Our vision is to become industry leaders within the environmental and construction industry having capacity and expertise to scale to meet your specific project needs. We hold certifications and licenses by certifying agencies to test bituminous, concrete and aggregate materials; observe and conduct observations for grading, bituminous and concrete pavement; inspect pedestrian systems for ADA Compliance; inspect outfalls, pipelines, manholes, laterals, storm and sewers systems for functionality; inspect Cured in Place Pipe (CIPP) installations; oversee trenchless installations; and perform stormwater regulatory compliance and permitting; along with oversight of hazardous materials removal. We conduct environmental impact studies, real estate and development due diligence, compliance audits, phase 1 environmental and phase 2 environmental investigations concluding with a Response Action Plan to guide development.  
Numbers Speak for Themselves
Woman Owned, Veteran Owned, Black Owned Business
MSC was founded in 2013 on the tenets of care and equity by Edna McKenzie, US Army Veteran, Owner & CEO. Edna's lived experiences and prior work experiences in the construction industry, experiences in-service as a veteran with the United States Army, as well as her service as a public-school leader and teacher has provided Edna the fuel that drives her passion to support clients challenges as they build for their constituents- clean, safe, livable communities- for the benefit of us all. Our strategic vision to become a leader in sustainability serving to transform through technical excellence, innovation and strategically aligned partnerships and collaborations purposed to build responsibly to reduce our carbon footprint.
At MSC, it is our belief that a clean environment, accessible and safe infrastructure, affordable, accessible and safe housing, walkable streets and paths/trails and a transportation system that works for everyone- are the building blocks of a healthier, more socially connected, more economically prosperous and more equitably developed communities. We are purposed to protect the essential elements of what our world needs most- water, air, infrastructure, and the natural environment. We are committed to build responsibly and perform exceptionally.
PROFESSIONAL & TECHNICAL CERTIFICATIONS: